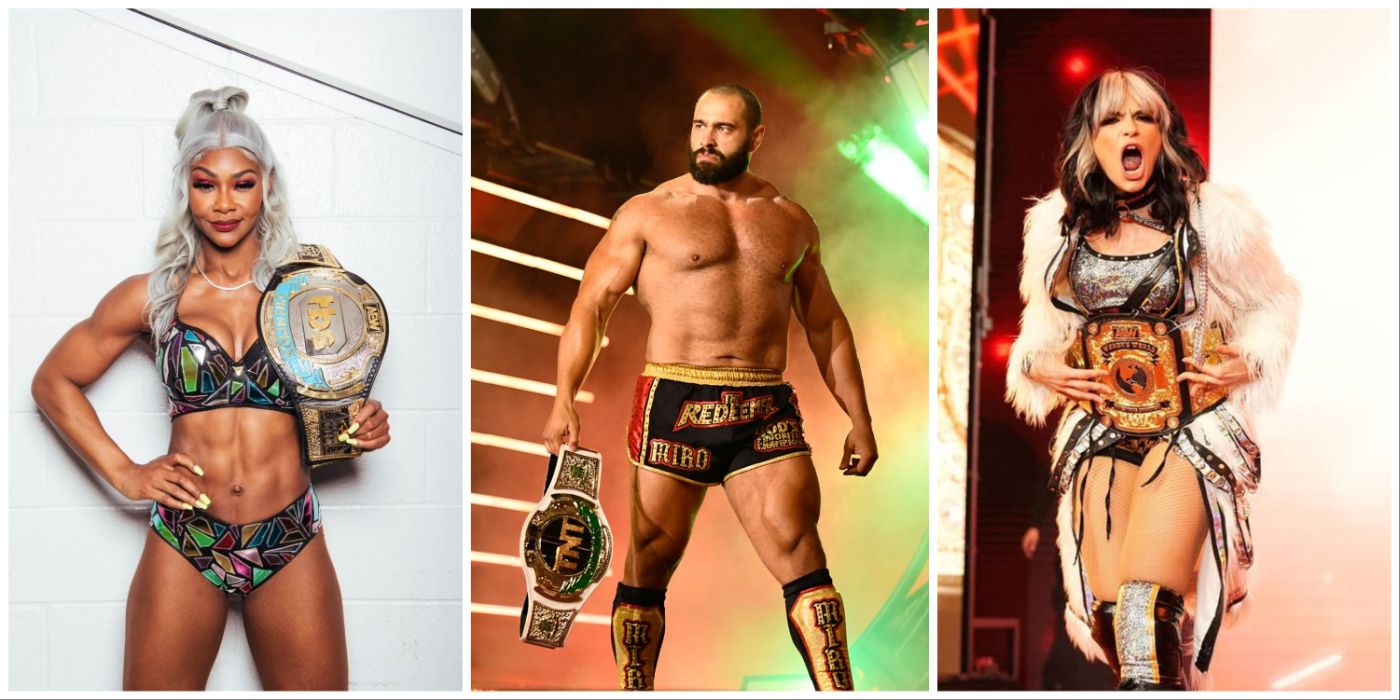 10 AEW Wrestlers Who Were Heels For Most Of Their Careers
In professional wrestling, there are baby faces, the good guys, and heels, the bad guys. Most storylines and matches feature a good and bad character facing off against each other so that the fans have someone to cheer on and someone to root against. Wrestlers are known to switch back and forth between being a good and bad person to make their character refreshed and not get stale.
RELATED: The Last 10 AEW Heel Turns, Ranked Worst To Best
All Elite Wrestling, just like any other wrestling promotion, has its fair share of heels and faces and some of those wrestlers have spent more time as one than the other. Some wrestlers find their niche by portraying one archetype for most of their careers. Here are the AEW wrestlers that have been a heel for the majority of their careers.
10
Brodie Lee
Brodie Lee would start to make his name in promotions like Chikara and Ring of Honor working alongside fellow future WWE superstars like Seth Rollins and Bryan Danielson. During his time in both promotions, he would work as a heel and would start working as a face during his time with Squared Circle Wrestling.
Brodie would then make his way to the WWE and quickly become a member of the Wyatt Family in NXT with Bray Wyatt and Erick Rowan. The faction would be heels for the better part of their time in WWE. Brodie would then end his career working in AEW as the "Exalted One" and leader of the Dark Order. Brodie sadly passed away in 2020 and is dearly missed by family, friends, and fans.
9
Andrade El Idolo
Andrade El Idolo has now worked longer as a heel than a face, but the first seven years of his career were spent working under a mask and the name La Sombra as a tecnico (face) in CMLL. It wouldn't be until his partnership with Rush and the formation of Los Ingobernables he turned rudo (heel).
Andrade debuted as a face for the first few months of his career in NXT but would quickly turn heel and align himself with Zelina Vega. The rest of his WWE he would spend as a heel before leaving and debuting for AEW. He works alongside Preston Vance and Rush as a heel faction for the company.
8
Miro
The Redeemer Miro started his career in WWE's developmental brand, FCW. He would become a part of NXT when the brand started up and was no longer a reality show. Under the guidance of his future wife, Lana, he would start to beat main roster stars like Kofi Kingston, Xavier Woods, and Sin Cara.
His career on WWE's main roster would start with an impressive undefeated streak and a United States Championship victory before losing to John Cena at WrestleMania 31. After a short face run in WWE, Miro would debut in AEW and side with Kip Sabian before that alliance ended and Miro would find himself a decent run with the TNT Championship.
7
Adam Cole
Adam Cole has been around countless promotions like Ring of Honor, New Japan, Pro Wrestling Guerilla, NXT, and AEW. The main connector through all of these runs is that most of his time in each promotion was spent as a heel. Adam Cole just works better as a bad guy that fans hate.
RELATED: 5 Wrestling Heels Who Were Truly Cruel (& 5 Who Were All Business)
His time in Ring of Honor saw him as one of the main heels for the promotion and three World Championships reigns. He and his faction The Undisputed Era saw unprecedented success in NXT with every member holding gold on multiple occasions. Cole's current run in AEW has seen him win the Owen Hart Memorial Tournament and come up short in a couple of AEW World Championship matches.
6
Jamie Hayter
Jamie Hayter has worked primarily in RevPro in England and Stardom in Japan before finding her way to AEW. She would have a few matches in AEW in 2019 and was planning to make more appearances before COVID halted any plans for her return to the company.
She would finally come back in 2021 and start aligning herself with Britt Baker and Rebel helping Britt Baker maintain the AEW Women's World Championship. It wouldn't be long before Hayter herself would win the AEW Women's World Championship from Toni Storm.
5
The Young Bucks
The Young Bucks would start to really make their name with their time in Reseda, California working for PWG. The brothers would also spend some time in companies like Impact Wrestling, New Japan, and Ring of Honor. Matt and Nick would get to join the New Japan faction, The Bullet Club, and would stick with them for the larger portion of their careers before starting up AEW.
Their time in AEW has seen them portray the villain more often than not and have had feuds with the likes of The Lucha Bros, Omega and Page, and FTR. The duo is also some of the most decorated tag teams in professional wrestling history.
4
Jade Cargill
Jade Cargill hasn't had the longest career compared to some in AEW, but she has done a lot to impress in her short time. Cargill maintains an amazing undefeated streak and is the inaugural and current holder of the TBS Championship.
Her career started by working alongside Shaq to face off against Cody Rhodes and his partner, Red Velvet, and would quickly launch from there. Cargill is about to reach 500 days holding the TBS Championship and in January surpassed Hikaru Shida as the longest-reigning champion in AEW.
3
Samoa Joe
Samoa Joe is a multiple World Champion in places like NXT, Ring of Honor, and TNA. During the majority of those title reigns, Joe would be positioned as a top heel for the company wrestling the likes of Shinsuke Nakamura, Bryan Danielson, and A.J. Styles.
RELATED: 10 Smartest Heels In AEW History
Samoa Joe currently wrestles in Ring of Honor and AEW where he at one point held the AEW TNT Championship and ROH Television Championship at the same time after beating Wardlow and Minoru Suzuki for the belts.
2
MJF
AEW World Champion MJF has been a heel his entire career and doesn't seem like he wants to change. He plays the heel character 24/7 to some fans' displeasure with his antics toward audience members or children at signings, etc.
MJF has become a very controversial wrestler due to what he says on Twitter or the way he acts on television. Despite all of this he does play a good heel because he definitely gets the fans to root against him and want to see him lose.
1
Chris Jericho
Chris Jericho has done an amazing job reinventing himself whenever his character starts to feel stale. In turn, it has seen him win a multitude of championships during his career in NJPW, WCW, WWE, and AEW. Jericho has spent the better part of his career being the villain.
In WCW he was the whiny cruiserweight, in WWE he became a handful of different types of villainous characters, In NJPW he debuted the Painmaker character, and in AEW has seen him lead the Inner Circle and Jericho Appreciation Society factions and reach World Championship gold.